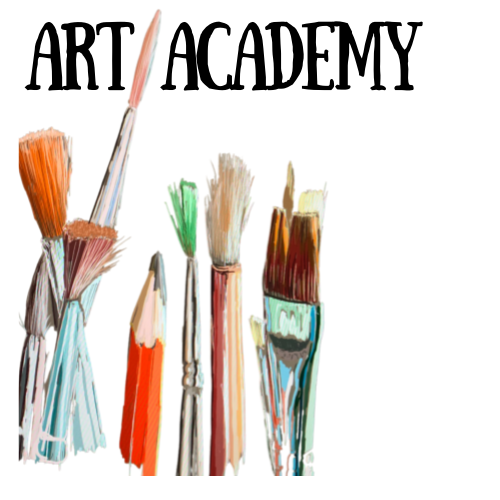 Art Academy is an after-school class designed for students who wish to develop and grow their artistic aptitude. Throughout each six week session, students learn and practice foundational skills in the visual arts and are exposed to a variety of mediums in both the 2D and 3D arts. Art Academy students also develop strong visual literacy and critical thinking skills through looking at and discussing their own artwork and the artwork of others. For the 6-10 year old cohort, each session yields a "final" work or project that is shared and discussed. For the 11-14 year old students, the focus shifts to skills-based instruction with an emphasis on drawing, painting, design, and composition.


First Fall Session
6-10 yrs: Tuesday, August 29 - Tuesday, October 3, 3:30-5:00 pm
6-10 yrs: Wednesday, August 30 - Wednesday, October 4, 3:30-5:00 pm
11-14 yrs: Thursday, August 31 -Thursday, Oct 5, 4:30-6:00 pm
Second Fall Session
6-10 yrs: Tuesday, October 24 - Tuesday, December 5, 3:30-5:00 pm
6-10 yrs: Wednesday, October 25 - Wednesday, December 6, 3:30-5:00 pm
11-14 yrs: Thursday, October 26 -Thursday, December 7, 4:30-6:00 pm
*with one week off for Thanksgiving (Nov. 21, 22, 23)
6-10 yrs Instructor:
Art educator Jen Johnson holds an undergraduate degree in art history and English literature from the University of Kansas, as well as an MAT (Masters in the Art of Teaching) from the English Department at the University of Montana. In her own practice, Jen is equally invested in understanding the larger world through her interactions with the art objects of others and the making of her own art objects. Jen considers her greatest strengths as an educator to be the facilitation of reflective and critical conversations about art and art making, as well as the creation of safe environments for authentic explorations into the practices of self-expression and making. Her preferred mediums are mixed media, printmaking, and photography, but she enjoys the act of creation no matter the medium and considers it one of her greatest joys to make art alongside others.
11-14 yrs Instructor:
April Dawes has had a life-long love of the arts. She was born and raised in Oklahoma and received her BFA in Oil Painting and Graphic Design from the University of Science and Arts of Oklahoma in 1998. In addition to homeschooling her 3 kids for 12 years, April has taught art in a variety of settings including classrooms, homeschool co-ops and private lessons over past several years. She has a passion for teaching students the fundamentals and proper techniques of drawing that will allow them to be confident and successful in any artistic endeavors. In addition to teaching, April is a practicing figurative oil painter who has exhibited in multiple group shows in Oklahoma and Colorado and two solo exhibitions since 2018. She is currently working on an upcoming show in July 2021 at The Kreuser Gallery in Colorado Springs, CO.


Course Type:
6 weeks; class meets once a week for 1.5 hours

Tuition:
$80.00 members; $105.00 non-members
To RSVP please fill out our registration form
here
or call us at 405-744-1535.