These imaginative ink and watercolor castles are inspired by prominent turn-of-the-century Oklahoma architect, Joseph Pierre Foucart. Foucart was the first architect to establish a practice in the Oklahoma territory and many of his unique and historical buildings remain in use today. They are especially prominent in Guthrie, OK, where Foucart set up his practice in 1889. Foucart brought the influence of European Gothic with him to Oklahoma and helped develop a new style called Prairie Gothic. Foucart was known to break some of the rules of his day, irreverently mixing and matching window, door, and column styles on the same building. Without a doubt, Joseph Foucart changed the landscape of Oklahoma with his love for the fantastical and whimsical. The following lesson plan was used in a mixed-age setting with students ages 6-12. It could be adapted for students up through high school.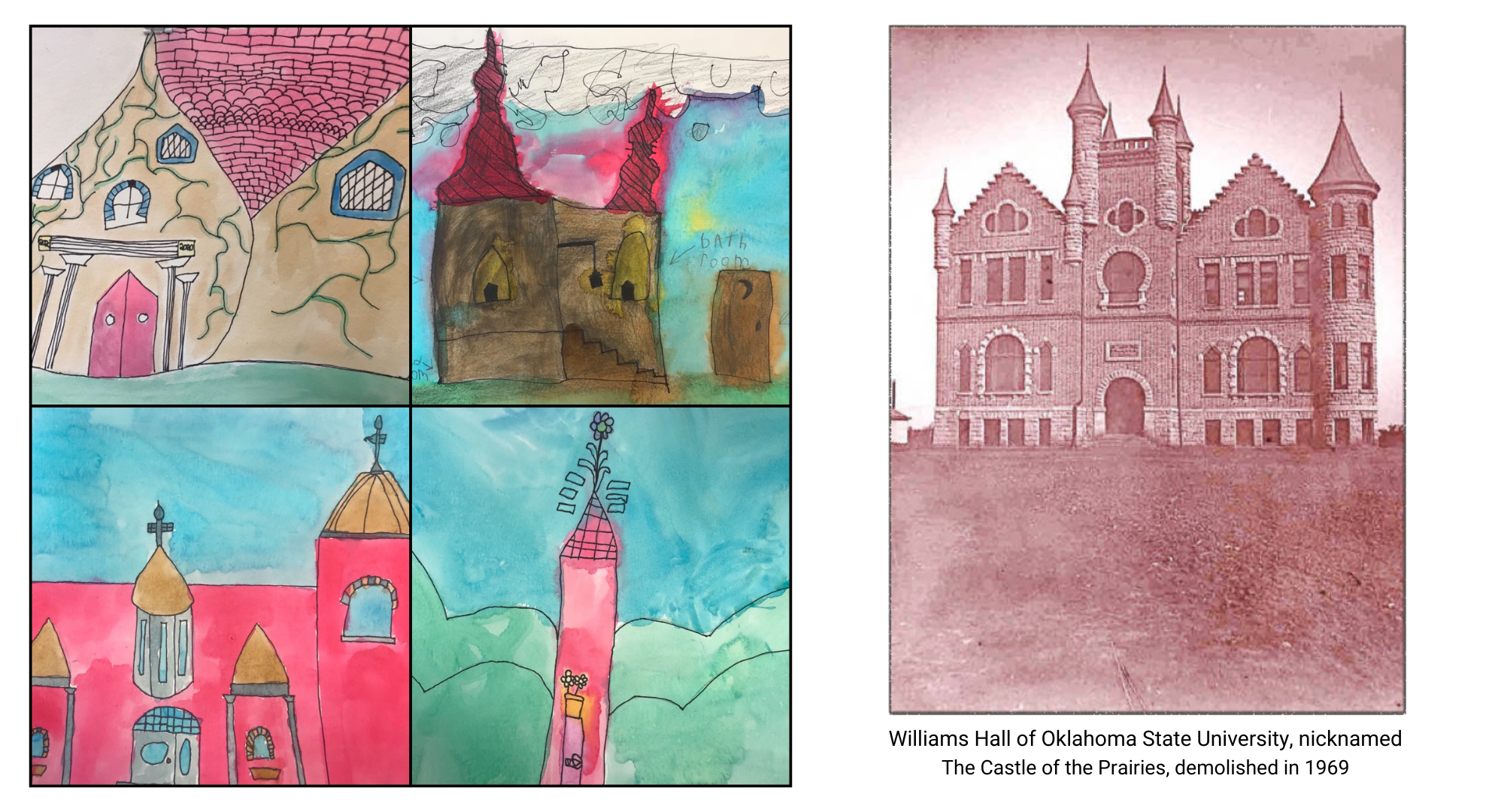 Objectives:
Students will learn about Joseph Foucart, Gothic architecture, architectural design in general, and a little Oklahoma history.

Students will be able to identify and explain various architectural features prominent in Foucart's buildings including facade, oriel window, turret, Russian onion dome, lintel, and pinnacle.

Students will apply their new knowledge of architectural design features and Foucart's mismatch Gothic style to create an ink and watercolor castle of their own.

Materials:
watercolor paper (we used 11 x 14, but 9 x 12 or even 8 x 10 would be fine)
pencil/eraser
fine or extra fine tip black permanent marker
watercolor paint
paintbrush
Steps:

1. Pick a Foucart building to look at first, project or print it, and allow students to look at the image closely. Ask them what they notice. When they give an answer, use the follow up question "What makes you say that?" to encourage even deeper observations.
2. Continue the conversation and share more images, facilitating discussion more specifically about the architectural features and the building materials. Introduce information about Foucart, his influences and style, and the timeline and location of his buildings.
3. Once the discussion comes to an end, do a quick review of some of the various architectural features so it's fresh on their minds as they begin their castle drawings. Require the use of at least 3 of those features in their work.
4. Have students draw their castles in pencil first. You may want to do a live demo to encourage the students to fill the space, use details, and reproduce some of the architectural features.
5. Once students are satisfied with their drawing, have them go over the lines with fine tip permanent marker. It's important that the marker is permanent so the lines won't run when the watercolor is applied.
6. Students finish the piece with watercolor paint.
6. When students are done with the project, allow them to share and reflect on their process and their artwork. What was enjoyable, challenging, surprising? With what are they most pleased? If there is time, allow students to make observations about each others' work and identify the architectural features that they highlight.
Resources:
Williams Hall: The Story of a Bygone Building by Stephanie Berson-
a website that delves into the details of Foucart's one and only Stillwater, OK building, Williams Hall on the Oklahoma State University campus.
https://storymaps.arcgis.com/stories/16b9dc68c9e148609ad900c409835356
Wikipedia, Joseph Pierre Foucart
- offers biographical information as well as a list of his buildings that remain today.
https://en.wikipedia.org/wiki/Joseph_Pierre_Foucart
Oklahoma Historical Society, Foucart, Joseph Pierre (1848-1917)
- more biographical information with some additional description of Foucart's stylistic choices.
https://www.okhistory.org/publications/enc/entry.php?entry=FO053