This spring in Art Academy for the 6-10 year olds, we explored artwork and artists that take their inspiration from botany and horticulture. Our students had the opportunity to learn directly from Payne County Master Gardener volunteers and participate in hands-on horticulture activities with fun, follow-up art projects, one of which was this gorgeous gelli plate printed collage inspired by one of the most famous artist-gardeners of all time, Claude Monet. This lesson could be adapted for any age group, K-12.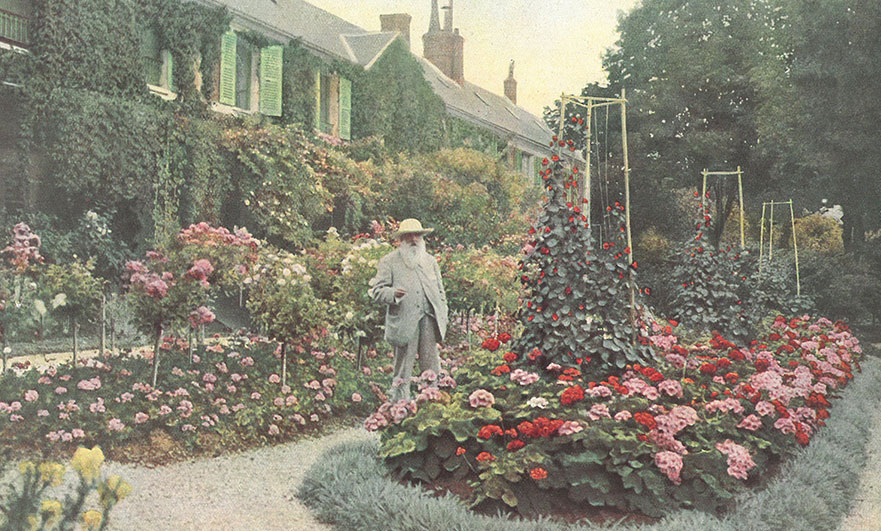 Objectives:

Students will learn about impressionism, Claude Monet, and the gardens and home in Giverny, France that inspired much of his later work.

Students will have the opportunity to experiment with gelli plate printing, learn how to combine colors successfully with a brayer, and create texture using various tools.

Students will create a collage inspired by Monet's home and gardens in Giverny, using their gelli printed paper as raw material.

Materials (for gelli prints):
gelli plates (if you don't have enough for every student, they can work in partners)
brayers
acrylic paint (the small craft paints work well in a variety of pre-mixed colors)
tools to create texture (foam brushes and stamps, forks, palette knives, paint brushes, etc.)
paper (plain 8.5 x 11 office paper works well)
table coverings and aprons (it's a messy process!)
Materials (for collage):
9 x 12 piece of paper (preferably thicker stock and smooth like bristol)
gelli printed papers, fully dry
glue sticks
scissors
images of Monet's home and garden for inspiration
oil pastels (optional)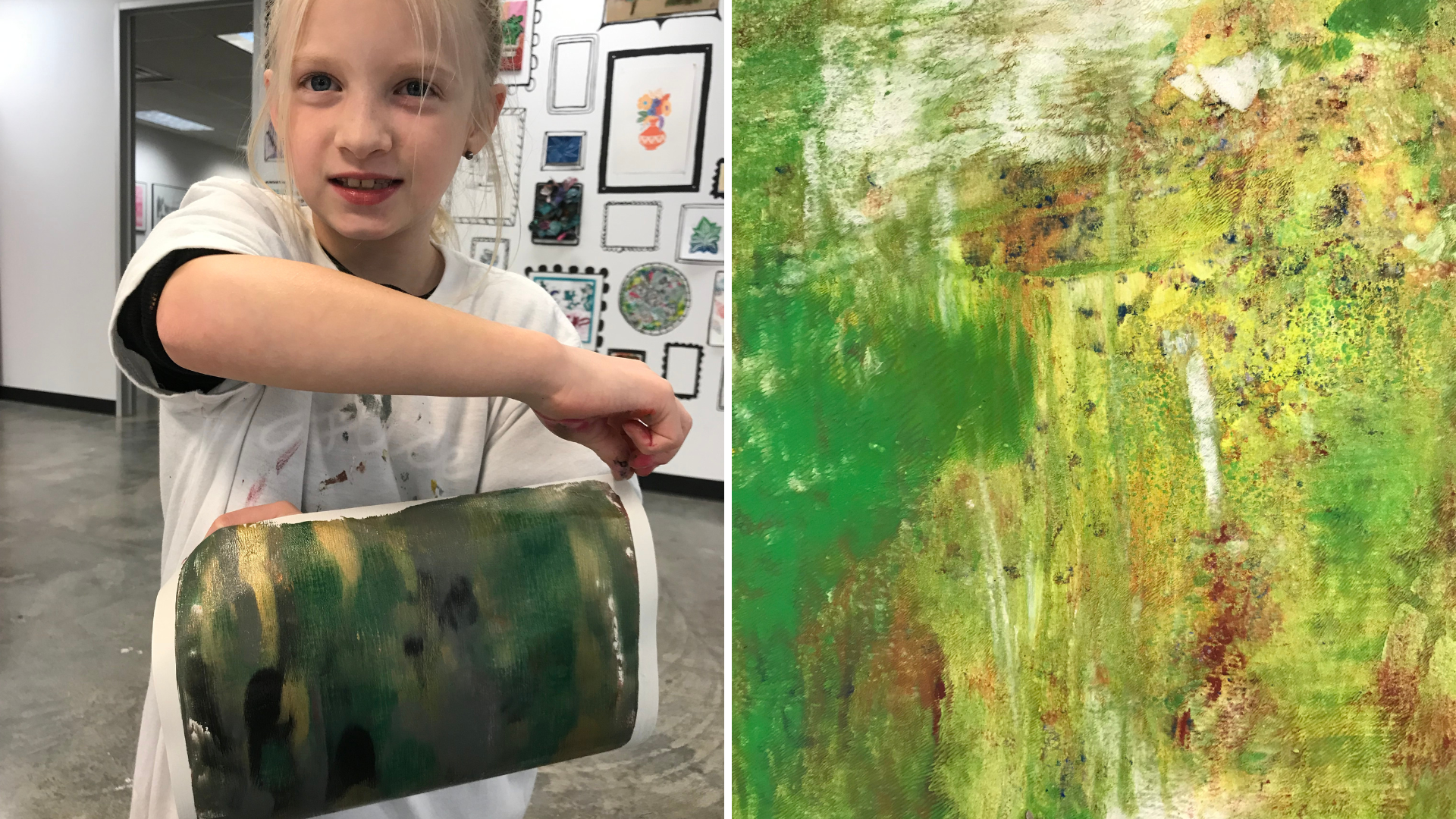 Steps (gelli printing)*:
1. Before you begin, explain to students that they will be using their prints as material for a collage. This will prevent them from getting attached to the prints they make, and also encourage them to use a wide variety of colors, thinking ahead about the house color, garden colors, etc.

2. Using your own gelli plate, demonstrate the process to the students using 3-4 different colors of acrylic paint. Talk them through how much paint to use, how to use the brayer to push the paint around (without over mixing!), how to add texture, and finally how to pull prints.**

3. Give students a set amount of time to create their prints. Some students will make 30 prints in a half an hour, others will make only 5.

4. Allow prints to dry completely before beginning the collage.

*If you don't have gelli plates, you can skip this part of the lesson and use a variety of colored, patterned, and textured paper for your collage instead.
**If you have never used gelli plates, check out the instructional video under resources!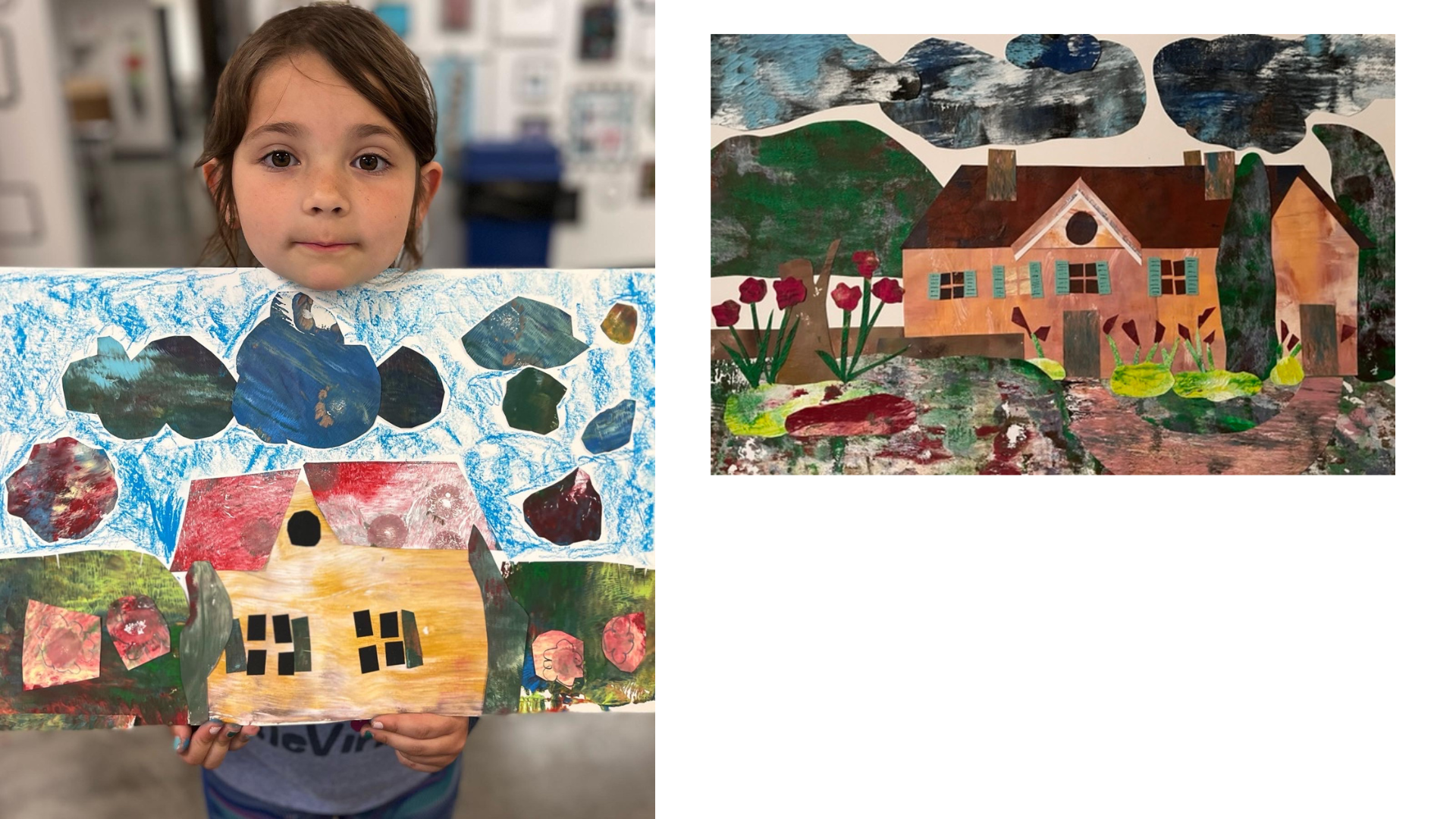 Steps (collage):

1. Show students some images of Claude Monet's later works created in his gardens. Allow students to make observations about what they see. Using their observations as a base, discuss what made impressionist artists different from their contemporaries (use of color, light, visible brush strokes, etc.).
2. Also show students some images of Monet's home and gardens in Giverny. Ask them to imagine having their own grand home surrounded by vast and beautiful gardens of their own creation. What colors do they see? What kind of flowers would they plant? Are there trees, animals? What color is the house? What is it made of?
3. Return the dried gelli prints back to students. Have them look at the colors and textures of their prints and briefly compare what they see to Monet's paintings. Are there similarities? Differences?
4. Students can then begin choosing colors and textures for their house and garden. You may want to supplement their supply with some of your own gelli prints. You can also encourage the trading and donating of print scraps. This was part of the fun for our younger students.
5. Once the students have picked out some colors to get started, have them begin with the house. You may want to provide a template to trace for younger students. You may also be needed to help draw or cut out certain shapes. Encourage details- shutters, doors, windows, chimneys, etc. Keep an image up of Monet's house so they can practice their observational skills as they create.
6. Once they've gotten the hang of it, students will fill in the surrounding environment- gardens, hills, mountains, clouds, animals, etc.
7. As an option, consider providing students with oil pastels to fill in some of the white spaces left after the collage is finished (see image).
Resources:
Giverny, France: Monet's Gardens,
Rick Steves' Europe (YouTube video)
:

https://www.youtube.com/watch?v=rVNakLfaimw
A visit to Claude Monet's garden at Giverny,
Royal Academy of Arts (YouTube video):